[ad_1]

Almost a year after the countrywide theatre shutdown, the industry and theatres are rejoicing a chance to welcome the audience back with a bevy of releases planned for the upcoming months. But with Covid-19 cases on the rise and government-issued alerts advising social distancing, will the audience head to the theatres to catch the latest releases? Filmmakers are concerned about the box office outcome of their films, which have been stuck in limbo for a year, while exhibitors are banking on big-ticket releases to tide them over. Filmmakers, actors, trade analysts, distributors, and exhibitors discuss their dilemma in this week's #BigStory!
Sanjay Gupta (Filmmaker): The new surge in cases puts a lot of anxiety on the makersSanjay Gupta waited with a bated breath to release his film 'Mumbai Saga' all through last year. While the filmmaker is confident of his film, which boasts of a stellar cast comprising of actors like John Abraham, Emraan Hashmi, and Kajal Aggarwal, he is worried about how the audience will react in the wake of the rise in the number of cases. "There was a cause of concern from the day we decided to release. We also knew that theatres are not running to full capacity; it is only 50 per cent. That is the risk we are taking. And now, with this new surge in cases, it does put a lot of anxiety on the makers of the film. The cases are going up but fortunately, it is not so much in the metros as it is happening in the interiors."
Sanjay's film is based in Mumbai and he is certain that people from the city will surely catch a show in cinema halls. "Audience in the city will come because they are going everywhere else. People are going to the beaches, matches, restaurants, and other public places, and they have not watched movies in the theatres for one whole year. Movies are our staple diet and the theatres are taking all the precautions to make it a safe experience. All this will pay off; it might not be like normal times but I am sure we will pull off something," asserts the filmmaker, adding that they are hoping to get a grand theatrical release. "We will go as wide as is available, depending on the number of screens that are open. There is no fight for the number of screens in the present scenario. But there is definitely some dispute over how many screens will be available when my film releases".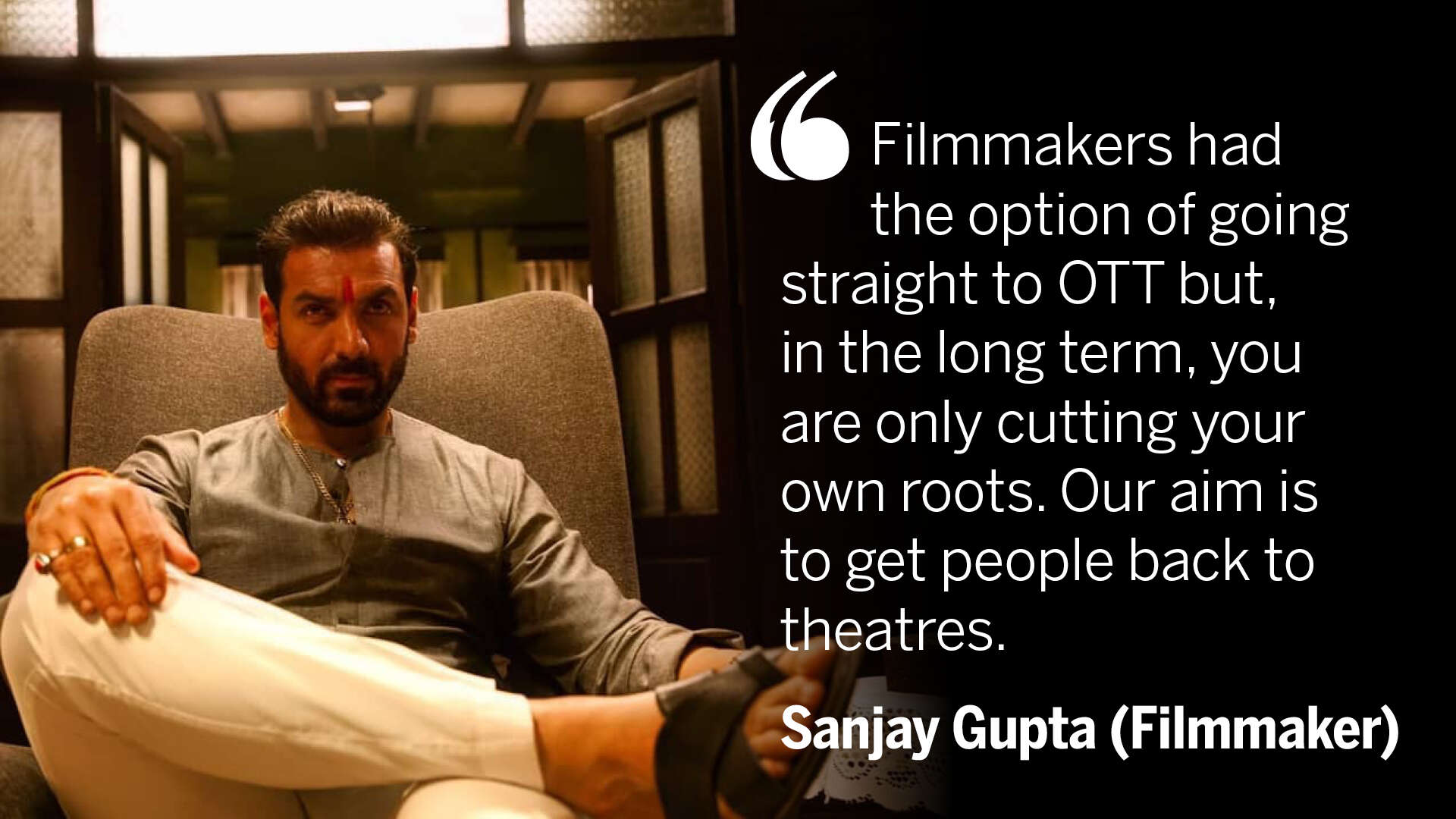 Talking about revenue sharing with theatres, he further goes on to explain, "We are not asking for a 70:30 ratio or anything like that. For us, it is about getting a good number of theatres; the more the merrier. We are working together with the exhibitors and distributors because our existence is mutual. Filmmakers had the option of going straight to OTT but, in the long term, you are only cutting your own roots. Our aim is to get people back to theatres. There are a lot of restrictions right now and more than 50 people are not allowed. So we are working on the possibilities that will help people come back to cinemas".
Vinod Bhanushali (Producer): People in Mumbai have the bandwidth to spend money on films in theatres


Vinod Bhanushali, who heads the marketing and media publishing for music at T-Series, feels that good content will definitely pull the audience to the theatres. He opines, "The good thing is that whatever numbers we are getting from theatres on the releases of films in this week is really overwhelming. Good content will get people to theatres. People are going to food courts in malls so if it is a good film people will go to the cinemas. And it is not that people are not going to cinemas. A film called 'Tom and Jerry' did well at the box office, Vjiay's 'Master' did well in the South, with a business of close to Rs 200 crore. The number of people who go to the theatres is lesser than earlier but we don't require lakhs of people to come to the cinemas. Besides, by now, people know how to avoid getting Covid and are prepared to tackle it. People are going to offices, restaurants, and are very well informed and the theatre guys are also taking the necessary measures."
Maharashtra is the biggest revenue market for films and excluding it will really hamper collections of a film but Vinod feels that the surge in Covid cases will not prove to be a hindrance. "Maharashtra contributes to 30 per cent of the total revenue, which is equivalent to Delhi. Besides, it all depends on the film; Tanhaji: The Unsung Warrior's maximum business came from Maharashtra. Apart from the content, it also depends on the ticket price and ability to pay. Mumbai is a cosmopolitan city; if a film does well here, it is a given that it will work universally. People have returned back to Mumbai from their hometowns as businesses have resumed. People in Mumbai have the bandwidth to spend money on watching films in theatres," he points out.
Ramesh Sippy (Distributor): It is definitely going to have a direct effect on the business of cinema but nobody will change their strategies immediately, barring those who have their releases in March and April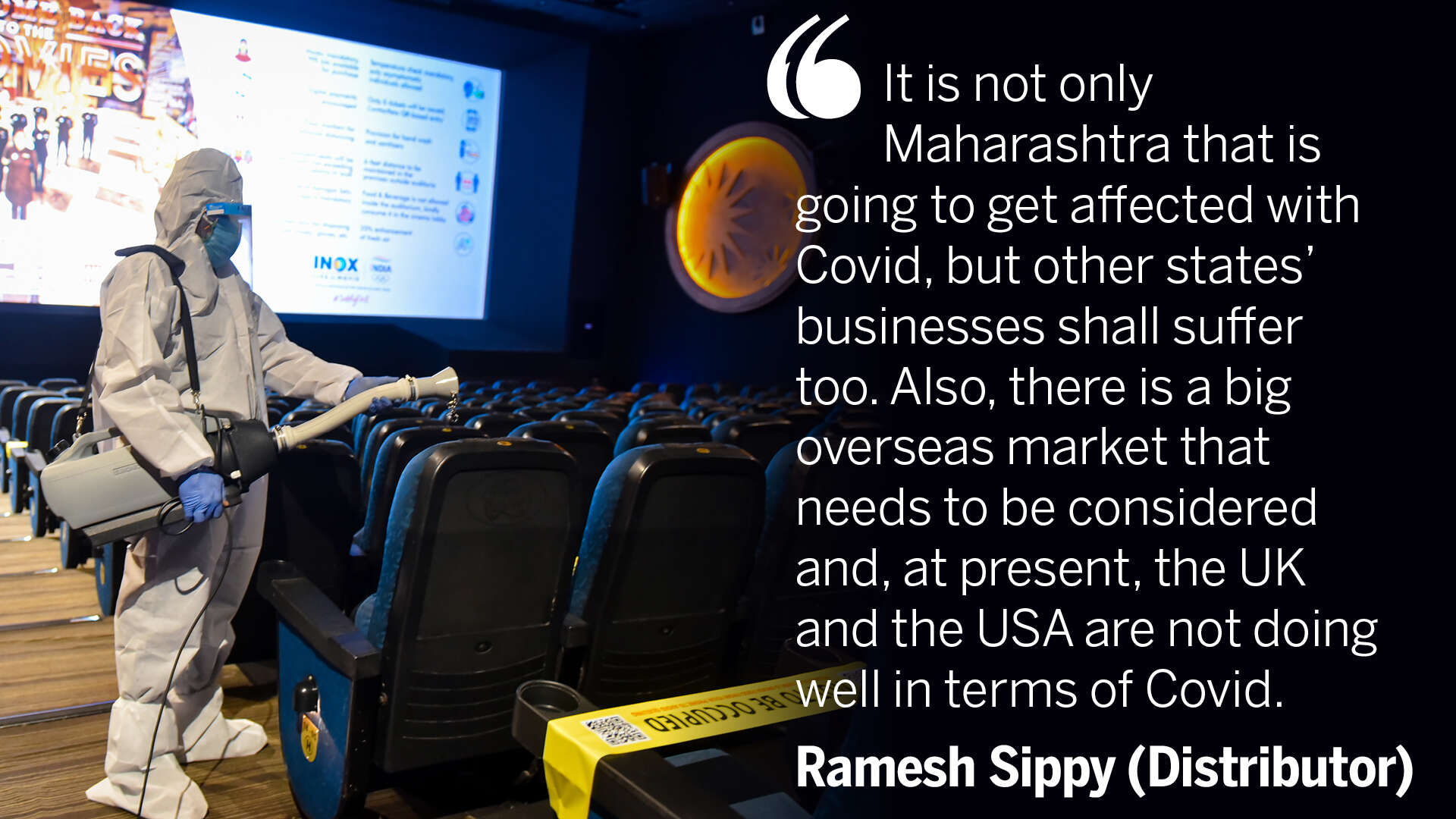 Bollywood is taking a risk by releasing films when the audience is still in a dilemma but is the industry ready to change its strategy if things don't work out? Distributor Ramesh Sippy reasons, "It is a big risk as nobody knows whether the number of cases is going upwards or downwards, whether they will be able to control it, and if they will they be able to succeed or not. It is definitely going to have a direct effect on the business of cinema but nobody will change their strategies immediately, barring those who have their releases in March and April."

When asked if, apart from pushing the release date people may go straight to OTT, Sippy replies, "You can opt to take the OTT route for some films, but the ones that are targeting a Rs 300 crore collection cannot recover their money from OTT; that will fetch them a maximum of Rs 50-100 crore. Smaller films will manage with OTT releases but films like 'Sooryavanshi' and 'Radhe: Your Most Wanted Bhai' cannot think of doing that because such figures are not possible to achieve from OTT releases".
Commenting on the Covid situation in Maharashtra, Sippy adds, "It is not only Maharashtra that is going to get affected with Covid, but other states' businesses shall suffer too. There is a big overseas market that also needs to be considered and, at present, the UK and the USA are not doing well in terms of Covid".
Kunal Sawhney (Exhibitor): In Maharashtra, we have seen tremendous growth in the number of people visiting cinemas


Despite the risks, theatre owners are eager to see the audience cheer for their favourite actors on the big screen. Kunal Sawhney, Senior VP, Carnival Cinemas, says, "Especially in Maharashtra, we have seen tremendous growth in people visiting cinemas and what gives us confidence is that families have started coming now. We appreciate that everyone is following all the necessary protocols. There has been no complaint at any of the theatres. With films starting to release, we are confident that we will get people back to cinema in much larger numbers. There is a hype amongst the audience for 'Mumbai Saga' and other releases."
Akshaye Rathi (Exhibitor-Distributor): Floodgates will open once we have a tent pole movies like 'Sooryavanshi' releasing
Film exhibitor and distributor, Akshaye Rathi reveals that theatres may not be running houseful but things will pick up the pace once a big-ticket movie releases. "It's certainly not going houseful yet, but, as an industry, we are certainly building momentum. The floodgates will open once we have a tent pole movie like 'Sooryavanshi' releasing in theatres. People are happily going out to restaurants and malls, but to get them back to cinemas in big numbers requires one big-ticket movie. The industry can't wait for people to turn up but they will themselves have to bring people back. And for that, all of us–producers, distributors, exhibitors, actors–need to work in sync," he asserts. Speaking about the dynamics of ticket pricing, he informs, "Some theatres are trying to charge a premium price from the few people who are coming in and others are reducing ticket prices to try and get more people to come in. Every chain has its own strategy. There is no one rule to the game."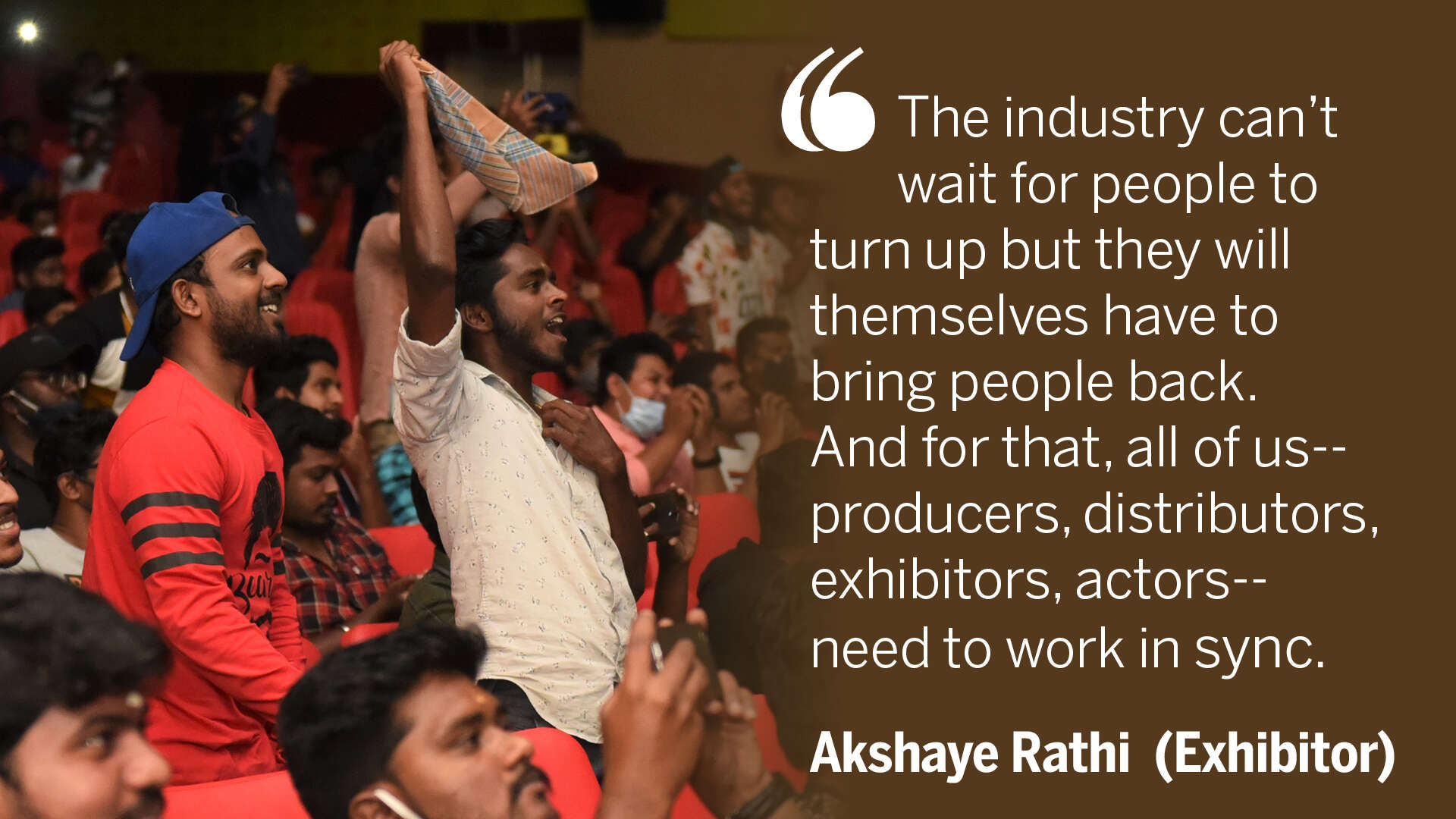 Manoj Bajpayee (Actor): I want theatres to survive and do very well because we always knew cinema as collective movie-viewing in a theatre
Manoj Bajpayee, whose last film 'Suraj Pe Mangal Bhari' hit the screens in November 2020, feels strongly about theatrical releases. "It is very important that the count of Covid cases go down and it is important that people are safe. We were the first ones to release our film 'Suraj Pe Mangal Bhari' just after the lockdown had opened. I want theatres to survive and do very well because we always knew cinema as collective movie-viewing in a theatre. Yes, OTT has given the audience a strong alternative entertainment avenue, but a collective viewing will always be fun. I want cinemas to do well and come back to normalcy but our primary concern should be the health and safety of the people," he reminds.
Divya Khosla Kumar (Filmmaker): The industry has announced its slate of films for the year and that in itself is a sign that they are ready
Divya Khosla Kumar is excited for theatres to resume business. "As a producer, I don't think the industry is prepared to face failure in terms of audience turnout, because when we spend on a film's production, it's generally no holds barred, which is after considering theatrical release as a huge chunk of income to nullify the expenses. However, if the film does not work, then it is truly disappointing. A lot of great content has been released on OTT platforms too, no doubt, but nothing compares to the experience of visiting a theatre. To watch your favourite celebrities on a 70mm screen is exceptionally brilliant and magical. All in all, I am hoping for the best with a bated breath!"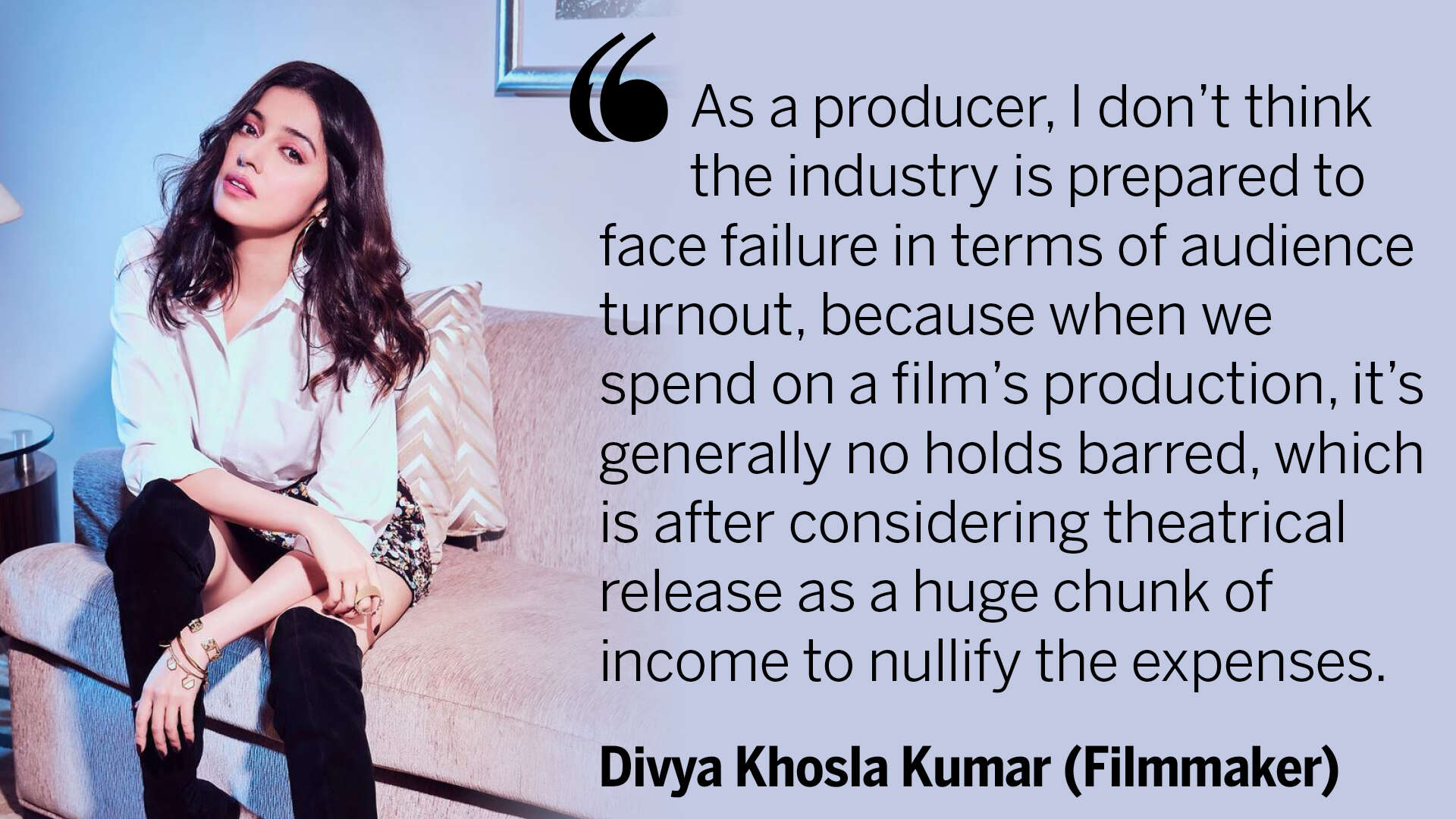 But is Bollywood ready to take a beating if things don't work as planned? "Yes, Bollywood production houses are ready to take the cinemas by a storm. The industry has announced its slate of films for the year and that in itself is a sign that they are ready. The entire entertainment industry is working cohesively, like a family, to resurrect the cinemas and it is our duty and responsibility, as well as the audiences', to help single screens and the theatre industry, rise from the ashes of the year that was 2020," shares Divya, who will soon be seen in 'Satyameva Jayate', which is eyeing a theatrical release too.
Atul Mohan (Trade analyst): Approximately Rs 700 cr is riding on the films releasing in the April-June bracket


Talking about how much money is involved in this year's releases, trade analyst Atul Mohan informs, "Around Rs 1500- 2000 crore is riding on films this year but the fear of another lockdown has scared us. Nagpur is under lockdown, and a curfew from 8 pm to 8 am has been imposed at several other places, which will result in no screenings after 5 pm. So there is bound to be some reshuffle in the releases of films". Given the uncertainty of the current times, Bollywood has already planned the release of major films for the second quarter of the year. "Approximately Rs 700 cr is riding on the films releasing in the April-June bracket but a lot will depend on the Covid count," declares Atul.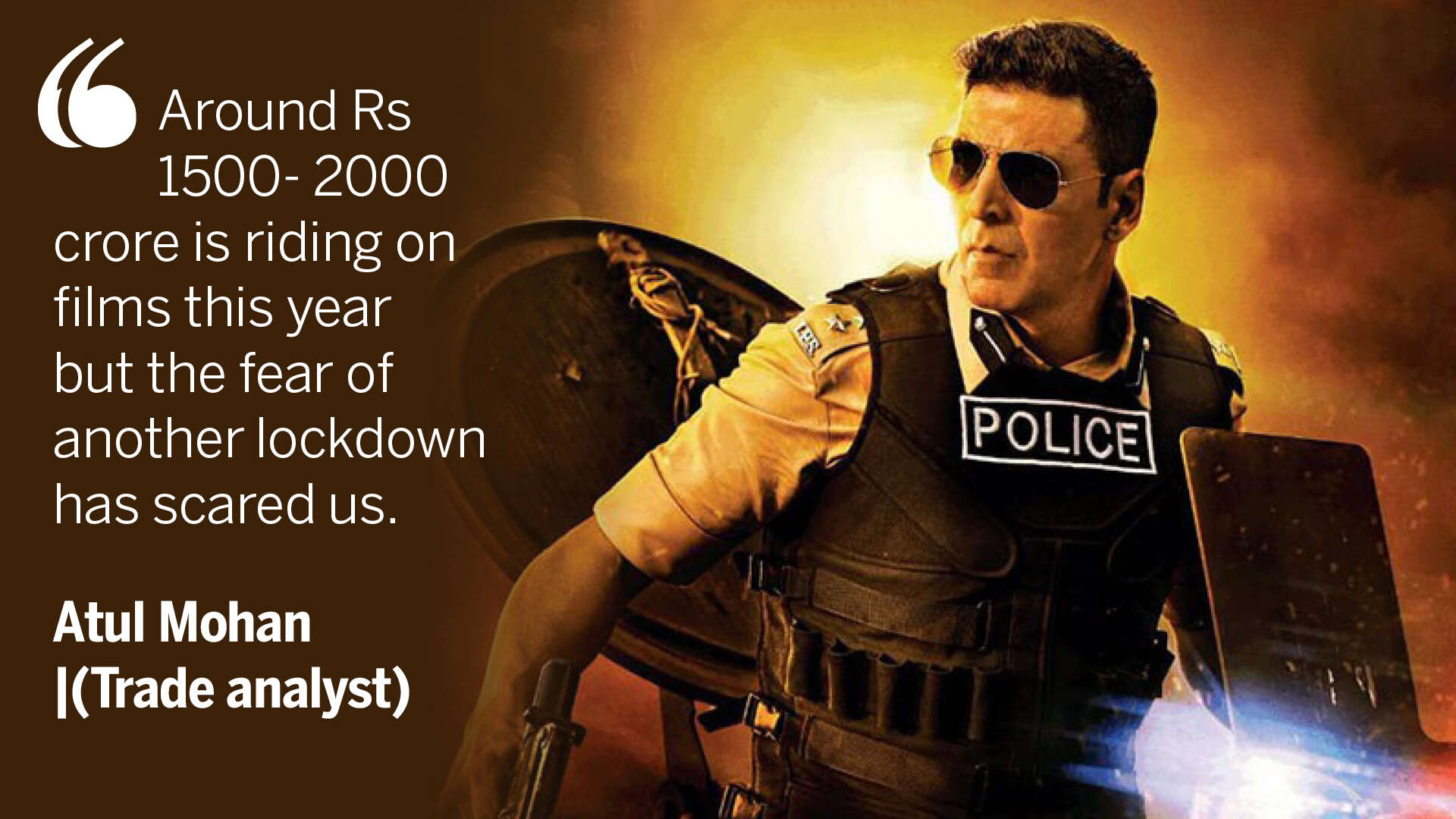 [ad_2]

Source link