[ad_1]

EXPECTATIONS
Manikarnika – The Queen of Jhansi is a dream project of Kangana Ranaut and she has given more than a year into making this happen. While it is expected that the film would have the much required scale, canvas and grandeur that the subject necessitates, the same is expected from music as well which is put together by Shankar-Ehsaan-Loy and lyricist Prasoon Joshi.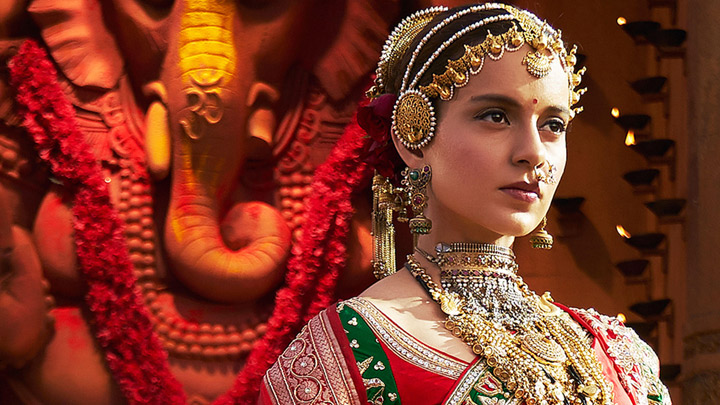 MUSIC
Shankar Mahadevan is the lead singer for 'Bharat', a patriotic number which is about bringing the country first before your own self. One wonders if the song is primarily for end credits roll since its theme and tonality suggests a sober conclusion to the war drama that Kangana is bringing on screen. The soundtrack in fact concludes with another version which has Prasoon Joshi narrating (and not singing) it for the audiences.
Meanwhile, Shankar Mahadevan is back with 'Vijayi Bhava', yet another theme track which is about moving ahead in the right direction and aim for victory. This is the song that should well have been positioned right at the beginning of the album since it comes with just the right kind of passion and energy that one expects from Manikarnika – The Queen of Jhansi. Reminding of the kind of soundtrack that Baahubali series boasted of, 'Vijayi Bhava' should make for a good impression if picturised well on screen.
Next to arrive is 'Bolo Kab Pratikar Karoge' which has Sukhwinder Singh at the helm of affairs. Yet another song which is high on energy and should arrive at a crucial juncture of the film's narrative when the protagonist is gearing up for the battle, it has a thump to it that should make an impression when experienced in theatres.
For the first time in the soundtrack a female voice is heard, what with Pratibha Singh Baghel coming behind the mike for 'Rajaji'. A romantic number that should play between Manikarnika and her beau, this one has a sweet sound to it and should bring on some light moments on screen. Pratibha does well as the voice of Kangana and she is joined by Ravi Mishra who arrives in the later part of the song. Yet again, one can't expect the song to emerge as a chartbuster here but should fit in well into the film's narrative.
It is back to theme songs in Manikarnika – The Queen of Jhansi, what with Shankar Mahadevan coming up with 'Shiv Tandav'. As is expected in a song belonging to this genre, this one too stays on to be strictly situational and one waits to see how it is picturised for the big screen experience. Rest assured, one can expect Kangana Ranaut in a fiery avtar here.
A song about waiting for the love of your life to be back soon, 'Tak Taki' is yet another song that is rendered by Pratibha Singh Baghel. This too is a situational number and at best should aid in taking the story forward. With a period feel to it, this one does well though in staying well within the mood and ambience of the era gone by.
The soundtrack concludes with 'Dankila' which has a horde of singers coming together in the form of Prajakta Shukre, Shrinidhi Ghatate, Siddharth Mahadevan and Arunaja. A celebration number that should be set in the happier times of Manikarnika's life, 'Dankila' should have arrived much earlier in the film's soundtrack. This one has the right energy to it with a peppy feel.
OVERALL
The music of Manikarnika – The Queen of Jhansi is in line with what the film's subject and narrative warranted. Though one doesn't foresee any chartbusters here, the songs should do well to aid the film's narrative.
OUR PICK(S)
'Dankila', 'Vijayi Bhava', 'Rajaji'
[ad_2]

Source link